You've been shopping around for a new home, but aren't sure of the steps to take to apply for a VA home loan. We've developed a simple step-by-step guide and infographic to help get you into a new home this year.
Follow these 6 steps when you apply for a VA home loan: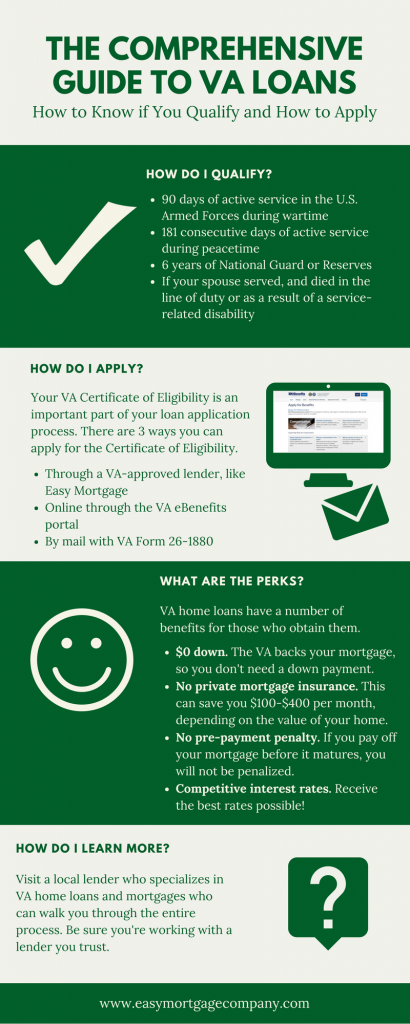 Step 1: Check If You're Eligible
Our list of VA home loan eligibility requirements goes into good detail and may help to determine if you qualify. Here are some basics:
U.S. Armed Forces: your eligibility largely depends on when and how you served the United States. Check out our list above for specific requirements regarding certain wartimes, peacetime, National Guard, and Selected Reserve.
Spouse of a vet: You may be eligible if you are the spouse of a veteran who has died in action, died of service-related disabilities, or who was classified as MIA or a POW.
Our list reviews several other eligibility requirements, including if you're not a veteran/spouse of a veteran, and income and credit requirements.
Step 2: Find A Lender You Can Trust
After determining your eligibility, your next step is to locate a lending institution that participates in the VA program, such as Easy Mortgage. Asking friends for recommendations is another good way to find a lender that you can trust.
Step 3: Obtain A Certificate Of Eligibility
The Certificate of Eligibility (COE) plays a large role in the application process, as it verifies to the lender that you meet all of the eligibility requirements. A COE can be obtained through your VA-approved lender, like Easy Mortgage, online through the VA eBenefits portal, or by mail with a VA Form 26-1880.
Step 4: Sign A Purchase Agreement
Work with your real estate agent to negotiate a purchase agreement for your new home. Be sure to include a "VA Option Clause" in the purchase and sales agreement. You may also want to allow for a way to "escape" the contract with no penalty in your agreement in case you aren't able to get the loan.
Step 5: Apply For Your VA Home Loan
Work with your lender to complete the loan application. Once the application is complete, your lender will order a VA appraisal to begin processing your information. After that's processed, your lender will decide whether or not to grant the loan.
Step 6: Closing The Deal
Once everything's approved, your lender will then choose a title company, and a representative or attorney to coordinate the transfer of property.
Are you ready to own your dream home? Fill out our simple online application or contact one of our mortgage professionals to get started on your VA home loan application!