Madison, Wisconsin's most Trusted Mortgage Broker
Who We Are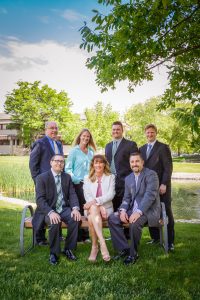 Easy Mortgage is a locally owned and operated mortgage lending company that has been serving the Madison area since 2005. We are in the business of helping people purchase a home with the best program and rates for their unique situation, whether you are refinancing or buying your first, second, or third home. Easy Mortgage helps you quickly and cost-efficiently find the best mortgage program to fit your needs. We offer competitive rates and access to a wide range of programs to help those who are denied by other lenders and may not be able to get a loan elsewhere. If you have been turned away somewhere else, allow our experienced and caring team to talk with you to evaluate your options. It's our goal to help all homebuyers successfully, and easily get into the home of their dreams.
It's our goal to help all homebuyers successfully purchase the home of their dreams.
This is why we say if Easy Mortgage can't do it, nobody can.
Value to Clients
Buying a home is a personal and important decision, probably the biggest investment you will ever make. At Easy Mortgage, we understand this, and that's why we help you every step of the way to help you get into the best program for your needs. Our team is backed by an average of 10 years' experience per team member. We've weathered the market when it's been up and down, and we understand how to guide customers through market changes whether you are purchasing or refinancing.
We understand customers' frustrations in dealing with other lending institutions that can take days or weeks to return a phone call or respond to your application inquiry. These delays slow the process and can potentially cause you to lose out on the home of your dreams. At Easy Mortgage, we solve this challenge by being accessible and responsive to clients. When you call or email us, we will respond in a timely manner.
We also understand that pieces missed early in the process could cause delays later on. As such, we take time to review your situation and options thoroughly up front to help set you up for success and get you into the home you want. We work with the foresight to see what you can expect during the process given your unique situation. We offer strategies to help homebuyers compete in the current, fast-paced Madison, WI real-estate market, to get you the best loan product and into a home.
Our customers tell us that they appreciate that we answer our phones. We respond with a reasonable turnaround and we are flexible with schedules to meet customer needs. Our customers thank us for educating them on the process up front so that they feel empowered and prepared for the home-buying process.
Our Philosophy Is Simple

We make the whole loan process as easy as possible for our customers like you while giving you the best loan that fits your individual needs.

We pride ourselves on offering our customers the best interest rates and lowest closing costs.
Our Guarantee To You

First and foremost, our expert mortgage consultants will always return your calls and/or emails promptly.

We will keep you informed every step of the way so you always feel you're well-informed about your home mortgage process.

We guarantee there will NEVER be any surprises at closing. As Wisconsin's most trusted mortgage broker, you can be confident that everything will be just as your personal mortgage consultant told you it would be during your initial meeting.
With the healthy state of the Madison, WI real estate market, it's important to choose a lender who:
As always, we have no upfront application costs. You will also not incur any fees for finding out which loan program best fits your individual needs.
Licensed in Wisconsin, Easy Mortgage Company is a recognized member of the Better Business Bureau, Wisconsin Mortgage Professionals Association, and the National Association of Mortgage Brokers.
HAVE A QUESTION? Ask an Expert here!
If you are ready for a competitive home loan in the Madison, Wisconsin area, and you want prompt service —