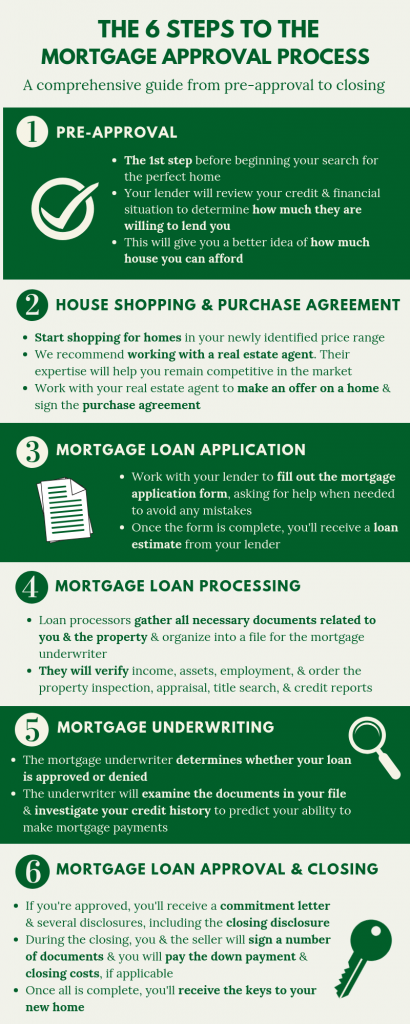 The prime home-buying season is just around the corner. To ensure you remain competitive in the housing market this year, it's important to prepare yourself and understand the mortgage approval process ahead of time.  Obtaining a home loan, especially if you're a first-time home buyer, can be a confusing and overwhelming process. To make the process easier to understand, we've covered the 6 steps to the mortgage approval process from pre-approval to closing.
#1 Pre-Approval
Before shopping around for homes, we highly recommend getting pre-approved by a mortgage lender. During the pre-approval process, your lender will review your credit and financial situation to determine how much they are willing to lend you. This will give you a better idea of how much house you can afford so you can confidently shop in your price range. If you meet the minimum criteria, you will receive a pre-approval letter to use during your home search to show real estate agents and sellers that you are a serious buyer. Becoming pre-approved does not guarantee that you will be approved for a loan later in the process, but it is a great first step for all home buyers seeking financing.
#2 House Shopping & Purchase Agreement
Once you're equipped with your pre-approval, your next step is to begin searching for homes within your newly identified price range. There are several resources available to find homes online, such as Zillow, Trulia, and your local Multiple Listing Service. However, we recommend first-time home buyers work with a real estate agent, as they will have a better understanding of the current market.
Once you find a home, your real estate agent will help you make an offer, and once the terms are approved by both parties, the purchase agreement is signed.
#3 Mortgage Loan Application
This step begins your journey to becoming approved for a loan to finance your new home. You will work with your mortgage lender to fill out the mortgage loan application, officially known as the Uniform Residential Loan Application (URLA), or Fannie Mae form 1003. The application contains several sections that capture information about you, your finances, and details of your potential mortgage. Since this form can sometimes be confusing, we recommend working closely with your lender and asking for help to ensure you're completing the application accurately.
Once you complete the application, you'll receive a loan estimate, which provides you with an estimated interest rate, monthly payment, and total closing costs for the loan. At this point, you are neither approved nor denied for a home loan; you are simply shown the loan terms your lender expects to offer if you're approved.
 #4 Mortgage Loan Processing
During this step, a loan processor will gather all necessary documents relating to you and the property, review the information, and organize into a loan file for the underwriter. Loan processors play a critical role in the process, as they double-check and fix any errors that may have been made in previous steps to give you the best chance of being approved. Loan processors will also begin verifying income, assets, and employment, and order the property inspection, appraisal, title search, and credit reports.
#5 Mortgage Underwriting
This step is arguably the most important in the mortgage approval process because it ultimately determines whether your loan is approved or denied. Mortgage underwriting is a process used to assess risk and ensure a borrower meets all of the minimum requirements for a home loan. The underwriter examines the documents within your loan file and heavily investigates your credit history to predict your ability to make mortgage payments. In this stage, your loan may be approved, approved with conditions, or denied. A mortgage approval with conditions typically means that your loan is approved, but you'll need to provide further documentation or verification.
Some helpful tips for a smooth underwriting process include not making any significant life changes such as quitting your job, applying for a new credit card, or making any large purchases such as buying a new vehicle. Underwriters want to know that you'll be able to afford the mortgage and any recent significant changes in your financial status may make them wary.
#6 Mortgage Loan Approval and Closing
Once you have met the underwriting requirements and are approved, you will be sent a commitment letter, which typically includes the type of loan program, loan amount, the loan term, interest rate, and conditions for approval. You will also receive several disclosures; among these is the closing disclosure, which explains the details of your mortgage loan and the amount you will pay for the various fees and services associated with closing your mortgage loan.
During the closing, you will typically be joined by your co-borrower, if applicable, an escrow officer, the seller's attorney and yours, the closing agent, and the real estate agents who have been involved in the process on both sides. You and the seller will sign a number of documents in order for funds to be disbursed. You will also need to pay for the down payment and closing costs if they are not rolled into the loan amount. Once all is complete, you will receive your keys, signaling the end of the mortgage approval process.
Are you ready to tackle the mortgage approval process? Give us a call or apply online today to get started!